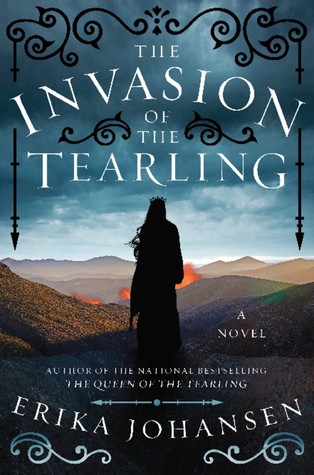 The Invasion Of The Tearling
|
Erika Johansen
Release Date: June 9, 2015 - Harper
Genre(s): Young Adult, Fantasy
Pages: 515
Edition: Paperback ARC
Source: TLC Blog Tours
Purchase Here:
Amazon
|
Barnes & Noble
With each passing day, Kelsea Glynn is growing into her new responsibilities as Queen of the Tearling. By stopping the shipments of slaves to the neighboring kingdom of Mortmesne, she crossed the Red Queen, a brutal ruler whose power derives from dark magic, who is sending her fearsome army into the Tearling to take what is hers. And nothing can stop the invasion.

But as the Mort army draws ever closer, Kelsea develops a mysterious connection to a time before the Crossing, and she finds herself relying on a strange and possibly dangerous ally: a woman named Lily, fighting for her life in a world where being female can feel like a crime. The fate of the Tearling —and that of Kelsea's own soul—may rest with Lily and her story, but Kelsea may not have enough time to find out.
About The Author
Erika Johansen grew up and lives in the San Francisco Bay Area. She went to Swarthmore College, earned an MFA from the Iowa Writers' Workshop, and eventually became an attorney, but she never stopped writing.